Legionella Risk Factors for Healthcare Facilities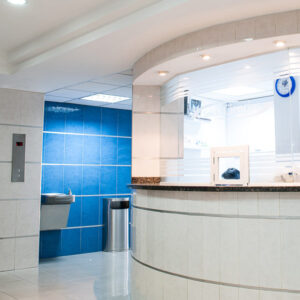 If you operate a building or facility of any type and haven't taken the CDC Legionella Risk Assessment, you should do so right now. This assessment identifies facilities at increased risk for Legionella growth and spread and is completely FREE.
If the CDC Legionella survey stated that you are at risk, an in-person Legionella Risk Assessment is the next step to determine risks that are unique to your facility. If you have questions whether that is appropriate for your facility, contact our Legionella team at Nancrede Engineering.
While the CDC Legionella Risk Assessment is an excellent tool for evaluating commercial buildings and industrial facilities, does this Legionella risk assessment apply equally to healthcare facilities? This question was answered indirectly through a study of Veterans Health Administration (VHA) healthcare buildings that were carefully monitored through quarterly water testing over several years.
While the Legionella risk factors identified in the CDC questionnaire are similar, the Legionella study of healthcare buildings identified two important differences:
While the CDC Legionella risk assessment calculates increased risk based on tall buildings in general, the VHA study found there is increased risk with each additional floor in a healthcare facility, regardless of the number of floors.
The CDC Legionella risk assessment does not ask about the age of the building. However, the VHA study found that for healthcare facilities, each decade of age increases the risk for Legionella in that facility.
Given this, we recommend that if you are a healthcare facility manager, stay up to date on Legionella risk factors such as disinfectant levels and download our white paper on Legionnaires risk factors and water management plans.
We have extensive experience in hospital and healthcare facility water treatment and Legionella analysis. It is a complex area with much at risk: both lives and liability. If you have questions about Legionella risks, water management plans, and Legionella testing in your healthcare facility, contact our experts at Nancrede Engineering.